The senseless acts of violence committed against animals is shocking but when it happens in a country which has no animal cruelty laws it's also frightening.
Images of a pig being forced to bungee jump at a theme park in China has sent shock waves around the world causing theme park bosses to issue a public apology.
Video footage has been released of the 165-pound pig being tied to a pole and carried by two men to the top of a 223 ft tower.
The men then push it off and in one video it sounds like the pig is squealing as it falls, BBC News Online reports.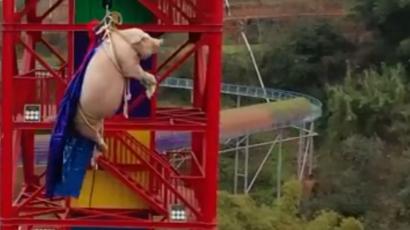 Local media reports that the theme park, in Chongqing, carried out the barbaric stunt to mark the opening of the new bungee attraction. Some local reports state the pig was sent to the slaughterhouse after.
According to BBC News animal cruelty is not punishable by law in China.
Animal rights organization PETA described it as "animal cruelty at its worst".
'Implement animal protection laws immediately'
It added: "Pigs experience pain and fear in the same ways that we do, and this disgusting PR stunt should be illegal," Jason Baker, PETA senior vice-president of international campaigns, told BBC News.
"The Chinese public's angry response should be a wake-up call to China's policy-makers to implement animal protection laws immediately."
PETA published the photo on its Facebook page where it received many comments condemning the actions of the theme park bosses.
"It was miserable for the animal! It's a disgusting marketing idea to attract attention by abusing a pig!" one user said on the Chinese social media platform Weibo, according to local news site Global Times.
The theme park said in a statement it accepted the criticism, BBC News Online reports.
"We… apologize to the public," it said. "We will improve [our] marketing of the tourist site, to provide tourists with better services."
WARNING: The video below shows upsetting footage.
What do you think about this? Feel free to comment on our Facebook page and don't forget to share to highlight this terrible abuse.