After years of campaigning, animal rights activists are celebrating following a ban on the use of wild animals in traveling circuses across England.
The ban will come into effect in January 2020 and ensures that in England wild animals will not be exploited and treated cruelly in the name of entertainment.
Announcing the ban in May the then U.K. environment secretary Michael Gove said, "Traveling circuses are no place for wild animals in the 21st century and I am pleased that this legislation will put an end to this practice for good."
According to animal rights group Peta, which campaigned tirelessly for this ban: "Wild animals used in traveling circuses are carted from one venue to another in cramped cages and barren trailers and are taught to perform tricks through the threat of punishment.
'Barbaric practice'
"Forcing wild animals to perform confusing tricks is a barbaric practice that has no place in a compassionate society," Peta wrote on its website.
Peta's campaign included a petition which attracted tens of thousands of signatures and targeted campaign ads featuring celebrities.
Groups such as the RSPCA, Animal Justice Project, the Born Free Foundation and Animal Defenders International, also joined the fight.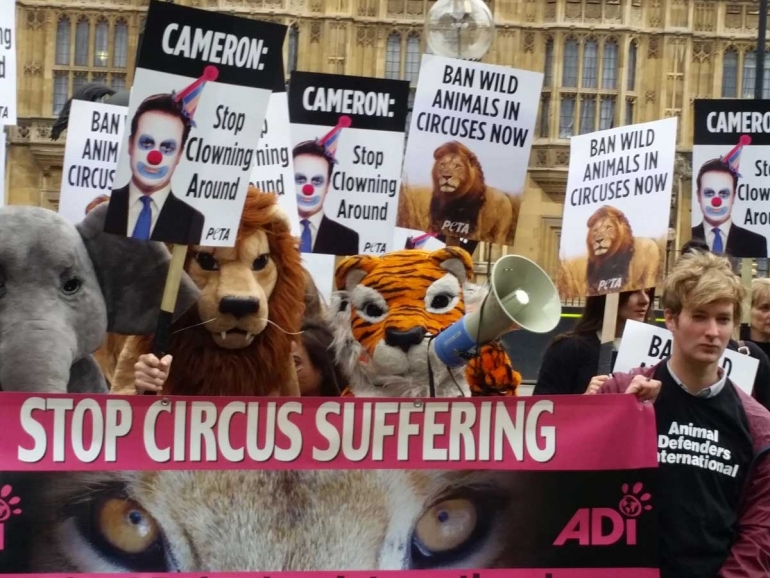 Both Ireland and Scotland introduced bans last year. A bill to prohibit the use of wild animals in traveling circuses in Wales has also been introduced.
In the U.S. New Jersey became the first state to introduce a complete ban on the use of all wild and exotic animals in traveling acts with "Nosey's Law" in 2018.
Traveling in confined spaces
According to research done by Vox and reported in NAVS, there were at least 65 elephants used in 17 American circuses in 2016.
The article added that circus animals were kept in chains or cages 96 percent of the time and can spend up to 100 consecutive hours traveling in confined spaces.
Countries such as Bolivia, Mexico, Costa Rica, Guatemala, Peru, Colombia, El Salvador, the Netherlands and India  have also passed laws banning the use of wild animals in circuses.
Do you think such a ban should be introduced in all U.S. states?
Feel free to leave your comments on our Facebook page and don't forget to share this story to find out what others think.