Surrendering your pet to an animal shelter has to be a last resort for most people.
You would hope that people would know that taking on a pet in the first place is a big decision; the responsibility is huge and you have to be prepared.
So when you feel like you have no other alternative but to give that dog up it should be with a heavy heart.
But one man was pictured holding up his terrified dog as he surrendered it with a big grin on his face as if his actions meant nothing.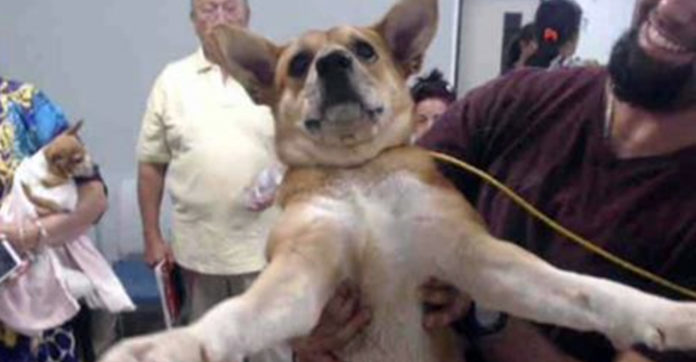 Urgent Dogs and Cats of Miami shared the image on its Facebook page describing it as "disturbing."
"That was literally his intake photo at Miami-Dade Animal Services – with the owner who DUMPED him there, holding him up for the camera and smiling from ear to ear, like it's just a regular day and nothing sad about this moment at all," the post read.
Owner has the widest grin on his face
The two-year-old Labrador retriever puppy who was surrendered holds its paws out stiffly and his eyes are wide open showing just how terrified he is; he knows what's happening to him.
Meanwhile, his owner has the widest grin on his face as he hands over the young dog.
Staff from the organization wrote: "Just want to let everyone who was following his story that…Gordo (is) safe with us after being rescued by a good Samaritan who was horrified by the incident, but could not keep him.
"He will be available for adoption into a loving and verified home after his Quarantine period. He's a great dog who deserves better!"
I agree! I wish some people could be stopped from owning animals.
Please share to wish Gordo all the love and happiness in his future life.