True animal lovers know that a dog is a life-long commitment, it's not a toy and it's certainly not something that can be thrown away when we've had enough.
Unfortunately not everyone realizes this, but one man in Italy is setting an example to us all by honoring the commitment he made to his sweet dog.
Tonino Vitale was caught on camera taking his elderly, sick dog for a walk, nothing out of the ordinary if you're a dog owner.
But Dylan is a 13-year-old Labrador that is crippled with arthritis and yet his loving owner takes him out on a cart every day so he can get some fresh air and a change of scenery.
Dylan can't move his back legs and also has difficulty moving his front legs and yet his owner tries to make him as comfortable as possible.
"For me, for my wife, who is an extraordinary woman, and who has become fond of him even more than me, Dylan is like our child," Tonino said, according to Italian news site Il Vibonese.
Tonino has had his dog for 13 years, first he was cared for by his children and then when they left home he carried on caring for him. He said Dylan was a great comfort to him after his dad died.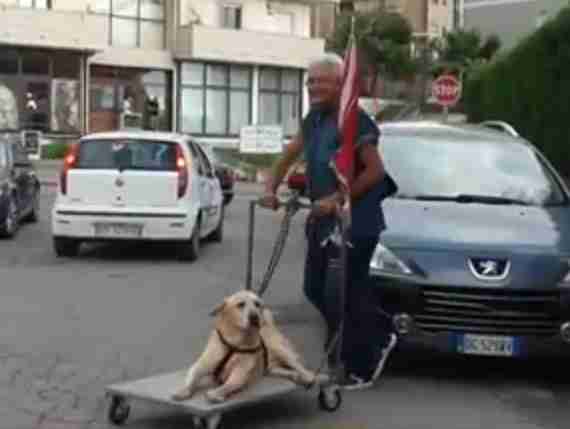 The video of Tonino returning with Dylan from his walk and lifting him off the cart is being shared by thousands and Tonino is attracting praise from animal lovers around the world.
One woman wrote: "He is a wonderful person who loves his dog as if he was his child. He is making so many sacrifices to help his dog live the best life. People like that deserve so much admiration, those who love animals understand."
See this sweet man and his dog in action in the clip below.
What a wonderful example this man is setting of the commitment we must all make to our faithful friends.
Please share this heartwarming story with your friends today.