I'm continuously astounded at what passes for looking after an animal in some households. The number of cruel animal owners who dump their pets and don't even give them a chance to survive is shocking.
Roscoe was a small dog who had been left alone at an abandoned house in southern Illinois tied up to a fence. As winter approached the frightened pooch had only straw to keep him warm and some food his owners would occasionally throw at him when they drove past.
I can't imagine how frightened, confused and freezing cold this little dog must have been, to do this to an animal is barbaric.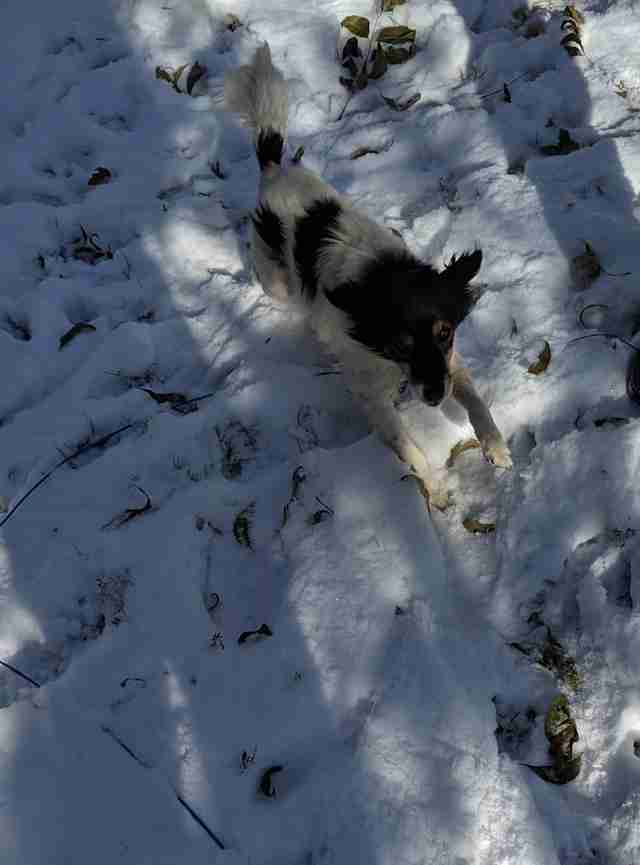 But for all the cruel people who insist on treating our four-legged friends this way there are animal heroes who come along and rescue them.
When a passerby noticed the little dog, trapped in heavy snow she called Effingham County Animal Control and Shelter to report Roscoe's situation. Officer Vanessa Skavlem and Warden Michelle Shoot rushed to the scene fearing the freezing hound may not make it through the night.
"He was just shivering to death because he was less than 10 pounds." Vanessa told The Dodo.
They found Roscoe and immediately wrapped him up in a blanket and bundled him into the car. Roscoe then got to enjoy a warm meal of biscuits and gravy and gave his rescuers the biggest smile, relieved that he's finally warm and safe.
Adorable whine of gratitude
Capturing the moment and sharing it on Facebook Vanessa wrote, "This is what happiness looks like when you rescue a small dog from a chained life in the icy snow."
Now he gets to live the life he deserves and often lets his rescuers know how grateful he is.
"He does this adorable whine that's almost as if he's talking to you," Vanessa said. "You know, it just feels like he has emotions and he's grateful."
Now Roscoe is looking for a forever home but meanwhile he is enjoying lots of love and warmth at the rescue center. Thanks to Vanessa and Michelle he was given another chance in life ❤️
Please share this picture to pay tribute to all the animal heroes who are helping abused and neglected dogs around the world.