It was on an emergency call that firefighters spotted a shivering pooch abandoned at the side of the highway in the rain.
His cruel owner had not only abandoned him but left the three-month-old tied to a tree so she couldn't escape her desperate situation.
On a cold day in Sacramento the firefighters spotted Chunk the pooch but couldn't stop as they were on their way to an emergency call out.
But big hearted firefighters didn't forget the frightened dog and after they had finished their call returned to free her and take her back to the fire station to help warm her up.
Firefighter Mike Thawley recalls how the pup was shivering and instigated the rescue of Chunk.
Mike and his colleagues gave Chunk a warm bath, and wrapped her up giving her all the love they could to keep her warm.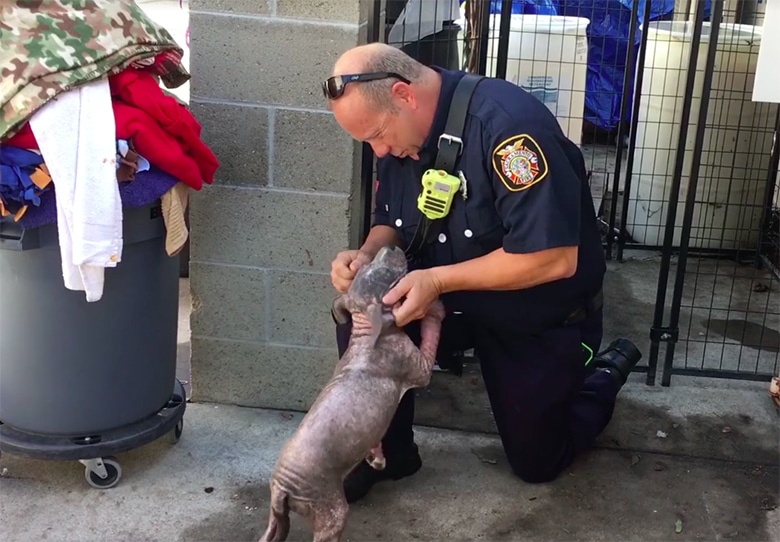 Sadly this pup needed more than warmth, she was suffering with severe mange, which had led to the loss of her fur which, like everything else, had been neglected.
She was taken to an animal shelter where she was treated for mange and checked over to ensure she was in good shape.
But while Chunk rested there was one person who couldn't stop thinking about her.
Firefighter Mike Thawley had to go back and see his four-legged friend.
"We all just kind of fell in love with her," the Sacramento Fire Department posted on their Facebook page.
Chunk couldn't stop wagging her tail at the sight of the firefighter who saved her. But Mike wasn't just there for a visit, accompanied by his wife and three daughters the firefighter wanted to adopt the pooch.
After four months Chunk was well enough to leave the shelter and go home with Mike and his family.
Thank goodness there are heroes like this in the world.
I wish this gorgeous family and their new addition all the happiness. Please share.