The saying 'don't judge a book by its cover' could have been written with this little kitten in mind.
This tiny fluffball called Nimbus was found abandoned and covered in oil and dirt at the side of the street.
When she was taken home her new owner wasn't quite sure how she'd stand up to her other big animals.
But judging her on size alone was a big mistake.
Sam Gerth was introduced to the feisty feline when she was a newborn, barely able to open her eyes.
His girlfriend had found her on her way home from work and couldn't leave her alone.
"We gave her a bath in the sink to try to clean her up a little bit, and then we turned on our space heater and let her rest in front of it because she was shivering and cold," Sam told The Dodo.
"She ended up falling asleep in my hand for about 45 minutes in front of the heater."
While she was weak and recovering the couple thought it best to keep her away from their other animals: two cats and two dogs.
They were also uncertain as to whether they wanted to add another animal to their household.
But that decision was made for them when Nimbus stole their hearts and so they decided to introduce her to the rest of their family.
Her reaction when she met one of the dogs was priceless. This tiny cat arched her back and fluffed out all her fur against this big dog.
"She definitely is a brave little kitty!" Sam said. "She stood her ground to every dog and animal she met!"
The cats took a while to come around but eventually accepted her, but it was the couple's other dog Zep that Nimbus loved from the start.
Zep is described as a "gentle giant" by his owners and he and Nimbus often snuggle together.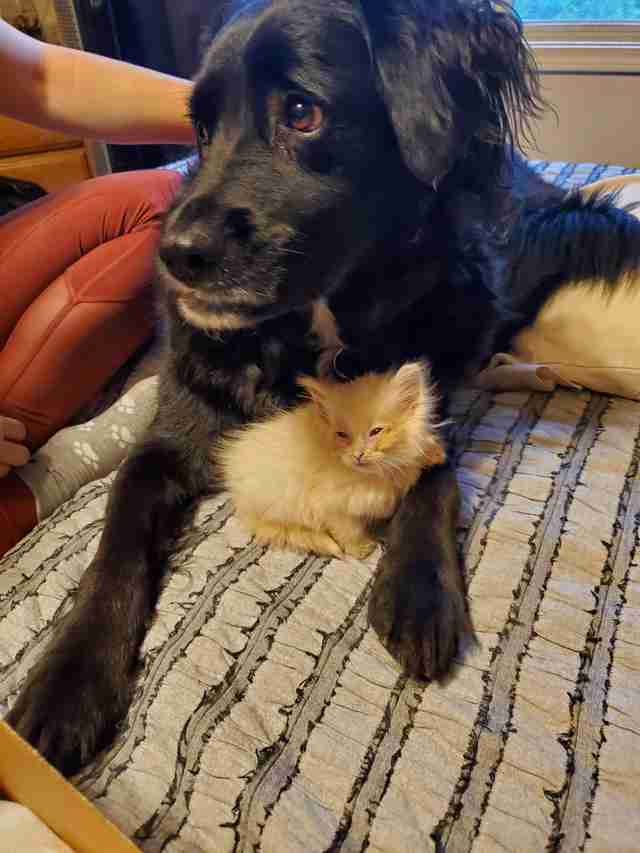 Dad Sam is so impressed with this tiny stray and thankful that she came into their lives.
He said: "She is a quirky little goofball and has a personality 10 times her size!"
What a gorgeous cat; this couple are so lucky to have her. Please share with all the cat lovers you know.