As the festive season nears an end and we get ready to enter a new year and a new decade, one farmer decided he wanted to remind everyone what's important to him this season.
Gene Hanson is a retired farmer from North Dakota who doesn't have any cattle but that didn't stop him from creating a beautiful scene that has since gone viral.
As an experienced farmer he knows just how to persuade animals to stand where he needs them to be. And with access to the amount of land he has the sight from above left everyone gasping.
Gene borrowed 150 of his neighbor's black Angus cattle who lives just across the road from his farm in Edgeley, to form the shape of a cross.
Thanks to the power of a drone he was able to capture the powerful image and since posting it, thousands across the nation have shared it.
"It's the Christmas season," Gene explained to Fox News, "and I thought that would be really nice if he (his neighbor) put the feed down in a sign of the cross and he did."
Holy Cow!
As the cattle fed, they formed the shape of a cross and Gene was able to get an aerial shot of it all.
The great-grandfather wanted to form the cross to remind people of "the birth of Jesus" as the reason for the season.
"It's just a Christian area," he added.
"It's hard to think of a time when the phrase 'Holy cow!' is more appropriate," FOX59 News wrote on their Facebook page, alongside the image.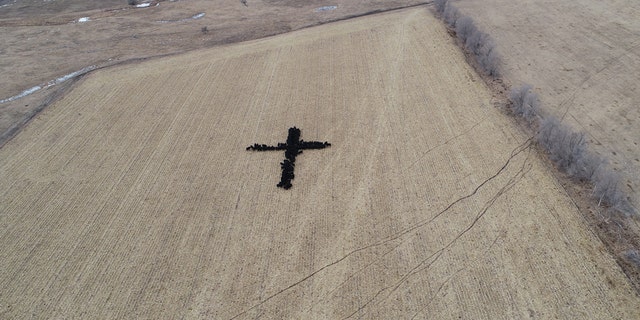 What a way to get everyone's attention and remind them the reason for the season.
Please share if you were impressed by this wonderful "cow cross."